How to Wash Volleyball Knee Pads Without Wrecking Them
Some links in this article are affiliate links, which means I earn from qualifying purchases.
Let's be real: volleyball knee pads are gross.
Too many of us in volleyball are guilty of not washing our knee pads for an entire season before addressing the problem. In my case, I had two or three pairs that I rotated to keep them "fresh" when I started playing. It helped a little, but the best practice is always to simply wash them.
So, how do you wash knee pads without wrecking them? To wash knee pads without wrecking them, wash them in warm or cold water (or use the warm-cold function), or try hand washing them. You can also soak them, usually overnight, and always remember to use the right products for the job. Dry them by hanging or sticking them in the dryer briefly to speed up the process.
Knee pads not only provide less cushioning when bogged up with sweat and dirt, but they give a bad impression of you as a player and can continuously dirty the court. Therefore, if you want to keep your knees undamaged, wash your knee pads (and wear them, of course).
In this article, I'm going to be breaking down…
Why you should wash your knee pads and how often
What methods I personally prefer and have tried
The best products for keeping them going as long as possible
Without further ado, let's take a look.
4 Ways To Clean Volleyball Knee Pads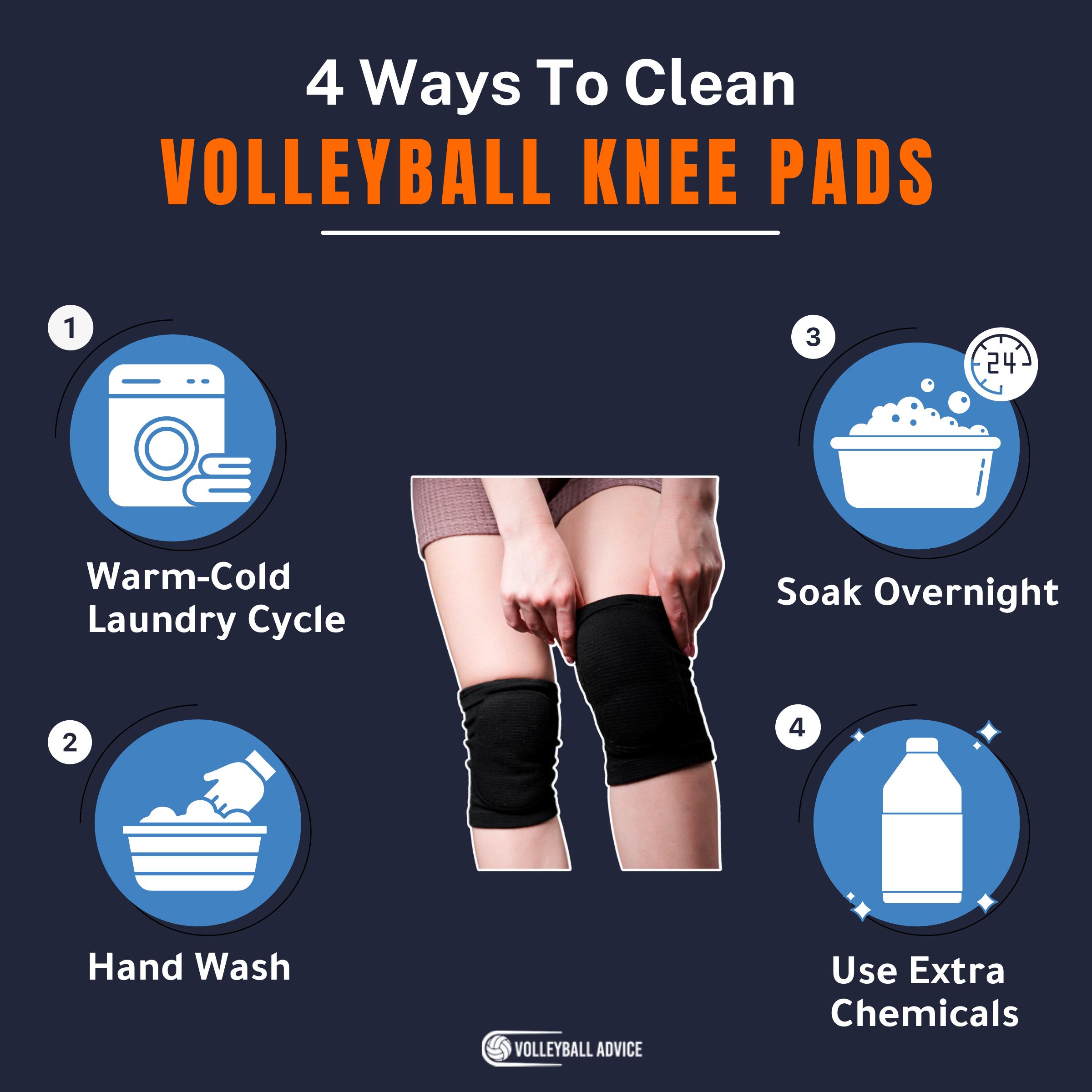 I know what you're thinking: laundry is a chore.
You're not wrong, and I feel that on a deeply spiritual level. But sooner or later, every athlete has to come to terms with the laundry pile (or chair) looking at them from across the room. Don't be the guy or gal who runs out of shirts for practice, and definitely don't be the one who forgets to wash your pads.
The good thing about knee pads is that they're very small, so they take very little effort to maintain and clean. Especially if you're using the washing machine method, simply throw them in when you're running a normal load and that should be good enough.
Because most volleyball knee pads are made of cotton (or polyester as it's becoming more the case), be sure that you use cold or warm water, rather than hot. Hot water will damage the knee pads and cause undue wear and tear, so just better to avoid it.
The four best ways I've found to clean your volleyball knee pads are:
1.  Warm-Cold Laundry Cycle
The tried and true method, mothers everywhere swear on their washing machine and so do I.
As I mentioned earlier, because knee pads are so small, just toss them in with your regular load and be done with it; no need to complicate things any further. Done regularly, every two weeks or so, your knee pads will look and smell amazing.
While any laundry detergent works (if used as directed) I've found that it's best to use a bleach-safe detergent and a gentle wash cycle if you have it. If you don't, no need to worry about it – they're only knee pads! If, somehow, they get ruined, they're very cheap to replace. Don't be afraid to experiment and see what works best.
Looking for new knee pads?  Check out my article on the Best Volleyball Knee Pads.
2.  Hand Wash
This is my go-to method for washing knee pads when something specific gets on them, or I don't feel like washing them so soon again. It's quicker than the washing machine and works anywhere in a pinch.
The best way to wash your knee pads by hand is to place them in a tub (or sink) large enough to be completely submerged. Use warm-cold water and add liquid detergent or an alternative amount of cleaning solution. 
I've also used hand soap, body wash, and spray-on fabric cleaner when I wasn't at home, and as long as you don't clean with these regularly you should see no problems at all.
Rub the pads together or use a scrubber, and rinse in clean water before hanging to dry.
3.  Soak Overnight
This is my preferred option for extremely dirty knee pads or for stubborn stains or odors that won't budge.
The set up for this is identical to the Hand Wash method. 
Fill your tub and add a cleaning solution. Scrub your pads to work the chemicals into the fabric, then leave to soak in the water overnight. Drain the next day and rinse. 
Sometimes, you might need to follow this method up with another quick hand wash, or simply throw it in the washing machine for total ease.
4.  Extra Chemicals
This method is my least favorite, but sometimes special chemicals can make the process easier.
Volleyball legend says that lemon, baking soda, or vinegar should be used to help eliminate the odors completely, but I've not found them to be overly more successful than normal washing.
White vinegar and isopropyl alcohol actually do work though, and can be added to the washing machine or the basin that you're handwashing/soaking the knee pads in for extra sterilization.
While not completely necessary, I like to do this if and when I get blood on my knee pads. Blood needs extra sterilization, of course, and as my pads are a lovely white the red shows up too obviously and can be hard to get rid of.
Can You Put Your Knee Pads In The Dryer?
Yes, you can put your volleyball knee pads in the dryer! 
Be careful not to leave them in too long though, as the heat can damage them. 
5-10 minutes should be enough.
How Often Should You Wash Your Knee Pads
You should wash your knee pads once every two weeks, roughly.
Taking them out of your bag to hang up can also help eliminate bad smells. You might have heard about basketball players putting their shoes in the freezer to help reduce odors, and amazingly, this method actually works! 
Try sticking your knee pads in the freezer for a couple days as well, if that sounds like your speed. Eventually, they will still need to be washed.
Taking care of your pads will prevent irritation that might happen and eliminate the need to buy new ones. That said, it's always worth having more than one pair of knee pads, and I always keep an extra in my bag, just in case.
Why Do Volleyball Knee Pads Get Smelly?
Being in direct contact with the skin, particularly an area where sweat accumulates – the knee – makes knee pads soak up the sweat and accumulate dirt/bacteria over time. 
This in turn causes them to begin to smell, just like wearing a shirt to practice for too long. Gross.
How Do You Get The Smell Out of Knee Pads?
Getting the smell out of knee pads can be a real pain, but you have several options. 
I'll rank my choices below in descending order of preference (just for you).
Tide Products
It's hard to beat the best.
Like they say, "mother knows best", and my mom swears by Tide. Really, there's no better guarantee than that. If it worked on my siblings' and my clothes as grass-stained, muddy kids with bloodied knees and fistfuls of sand, it'll work on your knee pads.
The Costco brand of Kirkland Signature Ultraclean is also fantastic. I'm including it in this section because it looks almost identical to Tide, and my mom once admitted it was pretty much but not quite as good.


You heard it here first, folks. Listen to your mom and you'll never go wrong.
Downy Unstoppables: HE In-Wash Scent Booster Beads

The Downy Unstoppables will pretty much solve any problem you're having with washing and hard to get rid of smells (like jerseys, knee pads, etc.). This works by using scent beads alongside the detergent in your actual washing machine that make your clothes smell great as well as clean.
This is a great product, and a staple in our household.
Oxiclean

Another big name of the laundry world, Oxiclean specializes in removing the stains from your pads that cause the odors and discoloring – in this case, the sweat stains.
Borax Powder

One that I'm not entirely familiar with, Borax Powder is a booster for laundry detergent that aids in stain and odor remover as well.
Borax has been in use since the 19th century, so it has a long history of effectiveness. Some people can be a little sensitive to it and possibly suffer a mild allergic reaction where it irritates your skin, so be sure to research before buying.
How To Wash Different Brands Of Knee Sleeves?
Knee sleeves (or compression sleeves) are slightly different and more delicate than knee pads, so it would be remiss to neither include them nor give them their own section. As larger and covering more area than knee pads, they absolutely need to be washed.
To provide the best possible advice, we asked each major volleyball-related knee sleeve manufacturer about the best practice for washing them, so here are their answers!
How To Wash Mizuno Knee Sleeves?
"We recommend you hand-wash them with mild soap, and then let them air-dry".
Similar to what I prescribed earlier, wash your Mizuno sleeves in a basin with warm-cold water and air dry. Tossing it in the washing machine won't kill you, but it does have a tendency to weaken the material, leading to holes.
How To Wash Nike Knee Sleeves?
"Machine wash inside-out in cold water with like colors […] Don't wring excess water. Air dry or tumble dry on low heat […] Don't use bleach, dryer sheets or fabric softener."
Unlike Mizuno, Nike advises using a washing machine, but to keep the temperature very low. This will help protect the material and reduce static cling. Always refer to your product's laundry tag or product listing for best practice when washing, as some will be unique.
How To Wash Asics Knee Sleeves?
"We recommend that you machine wash on either warm-cold or cold water with other sportswear. Avoid tumble drying, and hang in a room with good ventilation until dry."
Similar to the others, Asics recommends simple steps to ensure all reasonable care is taken to prolong the life of your product. If you have gel cushioning knee pads, some of Asics' most popular, then never fear – the gel cushioning system is safely housed inside the fabric and won't tear in the machine.
Frequently Asked Questions
Are Knee Pads Machine Washable?
Yes! Wash on warm-cold with your favorite brand of detergent (and scent remover). My family uses Tide and Downy products.
How to Dry Volleyball Knee Pads?
To help your pads last the longest, hang them and allow to air dry. If you're in a rush, stick them in the dryer for a couple minutes, but be careful not to leave them unattended!
How Do You Deep Clean Volleyball Knee Pads?
The best way to deep clean volleyball knee pads is to hand wash them, let them soak overnight, then rinse and stick them in the washing machine to finish them off.

More Volleyball Pad Resources
---
About The Author
Ailan Samuel is a writer and athlete who has played volleyball at the university, club, and national level since 2012. He has competed successfully in both beach and indoor competitions, resulting in four silver and two gold medals, and was awarded the Half-Blue while playing in Scotland. He received his MA in English and Medieval History from the University of St Andrews, Scotland, and is currently studying for his MA in Publishing and Creative Writing at Bournemouth University.